"His lord said unto him, Well done, thou good and faithful servant: thou hast been faithful over a few things…"
(Matthew 25:21)

Previous Pastors of South Calvary Missionary Baptist Church
Founded in 1875
Rev. Thomas
Smith

Rev. Dr.
George Lillard

Rev. J.T.
Highbaugh

Rev. Charles
Williams
Rev. S.S.
Thomas
Rev. V.W.
McLawler
Rev. L.A.
Manuel
Rev. Robert
Bennett, III
Rev. Leo
Sneed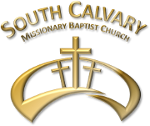 The Pursuit of Perfection in Worship
Worship is how we demonstrate our love for God. However, far too frequently Christians find ourselves in the midst of a building filled with church attenders and not true, dedicated and committed worshippers.
We must seek to partner with God to build South Calvary Missionary Baptist Church into a place of worship where every soul is actively pursuing the perfect worship experience. Although we are not likely to ever experience perfected worship until we worship in the presence of the Lord, we can practice, prepare and pursue it with every fiber of our being.
It will require ministries to spend time in preparation, officers to seek perfection in adminstration, and membership to seek a spirt of love and harmony. It will not be an easy road, but it will be worth it all when we stand befor the Master and hear Him say, "Well Done".
Blessed and Assured
John W. Woodall, Jr.,
Pastor



Our Current Pastor


Rev. John W. Woodall, Jr.